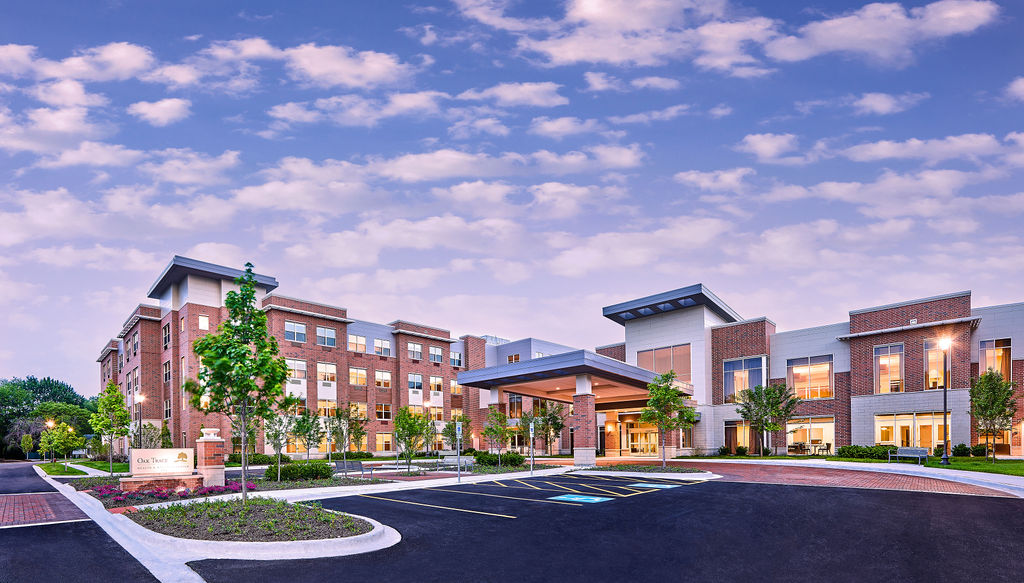 Oak Trace Project History
Oak Trace is a fifty-year-old Continuing Care Retirement Community (CCRC) that has earned a reputation for excellence in quality senior living.  As an organization committed to reinvesting in its communities, Lifespace Communities commissioned a market feasibility study to learn more about the needs of today's senior population and ascertain the level of demand for their services. The study identified an increased number of seniors who require assisted living, memory care, short-term rehabilitation and skilled nursing services.  Active seniors were seeking a community offering independent living with care options for the future.
Oak Trace embarked on a strategic plan to relocate and replace their outdated health center with a state-of-the-art Health & Wellness Center.  Recently completed, the Health & Wellness Center features a welcoming, two-story canopied, front entryway that enhances way finding.  This community houses 66 assisted living apartments, 28 memory care suites, 102 skilled nursing suites, a rehabilitation center with on-site physical, speech, and occupational therapy, an in-patient dialysis center and a fitness center.
Warm colors and interior detailing grace the "small home" design of the skilled nursing and memory care neighborhoods offering privacy and views of interconnected common spaces. This connection of common spaces alleviates fears about skilled nursing and memory care by creating a life-giving, respectful home setting.  The skilled nursing and memory care suites enjoy large windows that create day lighting, warm the corridors and common spaces and frame a view of the serene courtyard.  Interior common spaces are situated around an outdoor, wandering garden that encourages memory care residents to walk along its safe, understandable path.
Oak Trace and the design team further imagined a community where couples and friends with varying needs could age gracefully together.  This led to the thoughtful design of a new, modern Independent Living building with connectivity to the Healthcare Center and existing Independent Living building.  Like the Healthcare Center, the Independent Living building features a canopied front entryway designed as the entrance into the entire community.  Created as a focal point, it offers views of all the buildings on campus and a point of reference that enhances way finding.  Phase II is set to start construction later this year.
The exclamation point on this project is the new quad design with courtyards, continuous walking paths and breathtaking views situated in the very heart of the campus.  This is the uniting epicenter of the campus that invites people outdoors to meditate, socialize, dine and feel purpose and joy.  In this environment, health and well-being combine with adventure and freedom to meet the physical, cognitive and spiritual needs of the people entrusted to its care.  Check out our project page for more information.
Project Goals
To create an inclusive senior living community that meets present and future needs of today's seniors while providing all levels of care within a CCRC. 
The key to achieving inclusivity was the design of a new Healthcare Center with levels of support to meet the needs of today's active seniors.  Building connectivity into the overall design inspires a sense of community amongst residents with differing levels of independence.The physical connection, uniformity in colors and finishes and daylighting make the environment feel like a home where people embrace differences in physical and cognitive abilities. People who feel comfortably embraced by a community are more likely to participate in its offerings.
The design team and owners envisioned a design for the assisted living apartments that mimics that of the independent living apartments. Assisted living residents experience luxury reminiscent of a fine hotel.  An open floor plan, exquisite detailing and shared views to a central courtyard spur engagement between the two populations.
The phase II Independent Living building creates community with the physical joining of buildings throughout the main level.  Its grand entrance is framed by a sculptural canopy that features voids within the massing. These voids create a dynamic display of light and shadow as the sun moves across the sky. Not only visually pleasing, the entryway functions as a focal point for the community and an architectural beacon to attract visitors from the outside community. All elements are balanced with a central courtyard with views of all campus buildings that enhance way finding.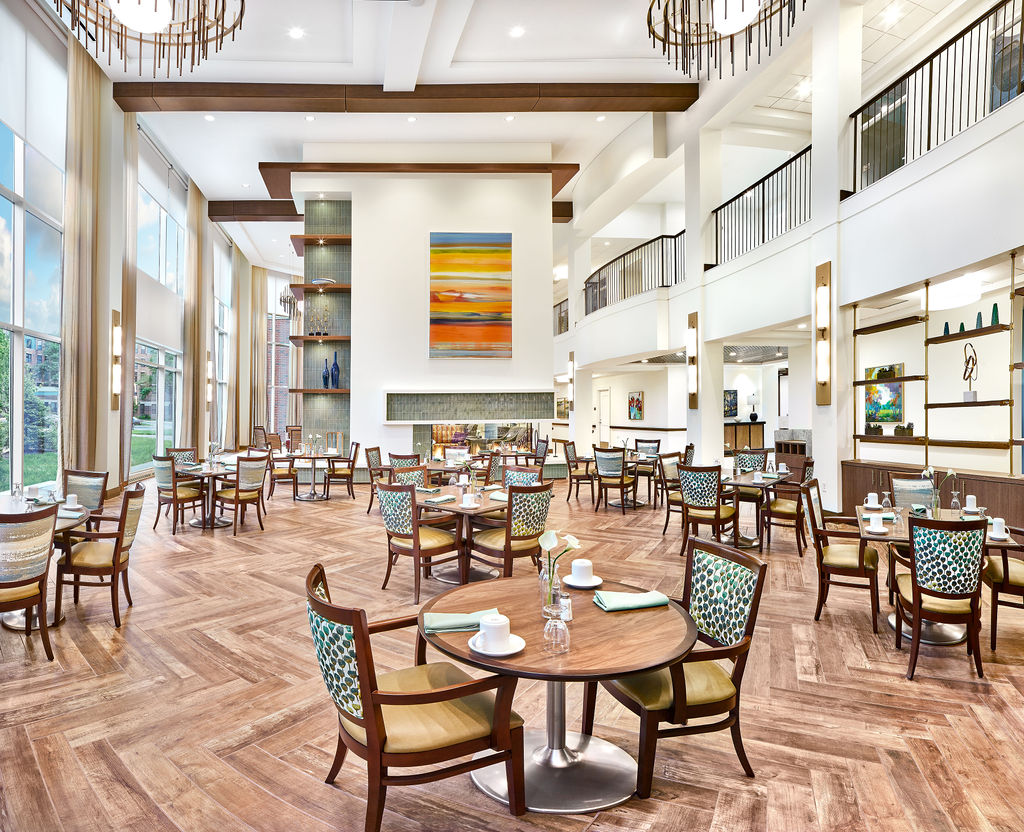 To promote health and wellness for all residents.
The design of the Healthcare Center promotes health and wellness for skilled and memory care residents in a "small house" design with comfortably scaled neighborhoods at each level of care. Resident suites are surrounded by common areas, expansive windows, natural day lighting and scenic views. A secure, looping memory garden surrounds the common spaces providing a safe, understandable walking path for memory care residents.
The assisted living apartments feature well-appointed finishes and detailing that closely align with the décor of the independent living apartments. These touches are meant to engender the pride and independence of home.
Each building's public spaces and circulation routes surround a new lush landscaped quad that provides enhanced day lighting and a central focal point for wayfinding throughout campus.  This connectivity of public spaces throughout all the buildings around a large central quad, combined with lush landscaping and walking paths, blurs the perceptual barriers between levels of care and assists in community development.
This bright and appealing "home-like" environment was achieved throughout the campus with quality interior finishes, warm colors and natural lighting. Well-appointed common spaces include a two-story diningand great room, a sculptural fireplace with built-in millwork and display shelves, an expansive library, restaurant style dining and a multi-purpose room to inspire people to feed their bodies, minds and spirits. The beauty salon, fitness center, chapel, gift shop and winding paths remind people to partake in self-care and the simple pleasures of a healthy lifestyle.