On the Boards
It was nice to start this month with a long weekend. We were able to catch our breath before another busy month took off! Our corporate client wants to remodel two of their floors downtown, to promote open collaboration, similar to a WeWork space. Also, having the option to open the space up, to other organizations to use as well, for events or meetings. We decided to design a main staircase to connect the two floors to allow for movement and activity. We gave a wide range of collaborative spaces throughout, with a central meal hub, to create an energy and buzz at the core of the space.
They requested a rendering, to present to their board, to showcase the design intent. They were so excited to see it come together and to visualize the potential space. Below is a still from our walk through.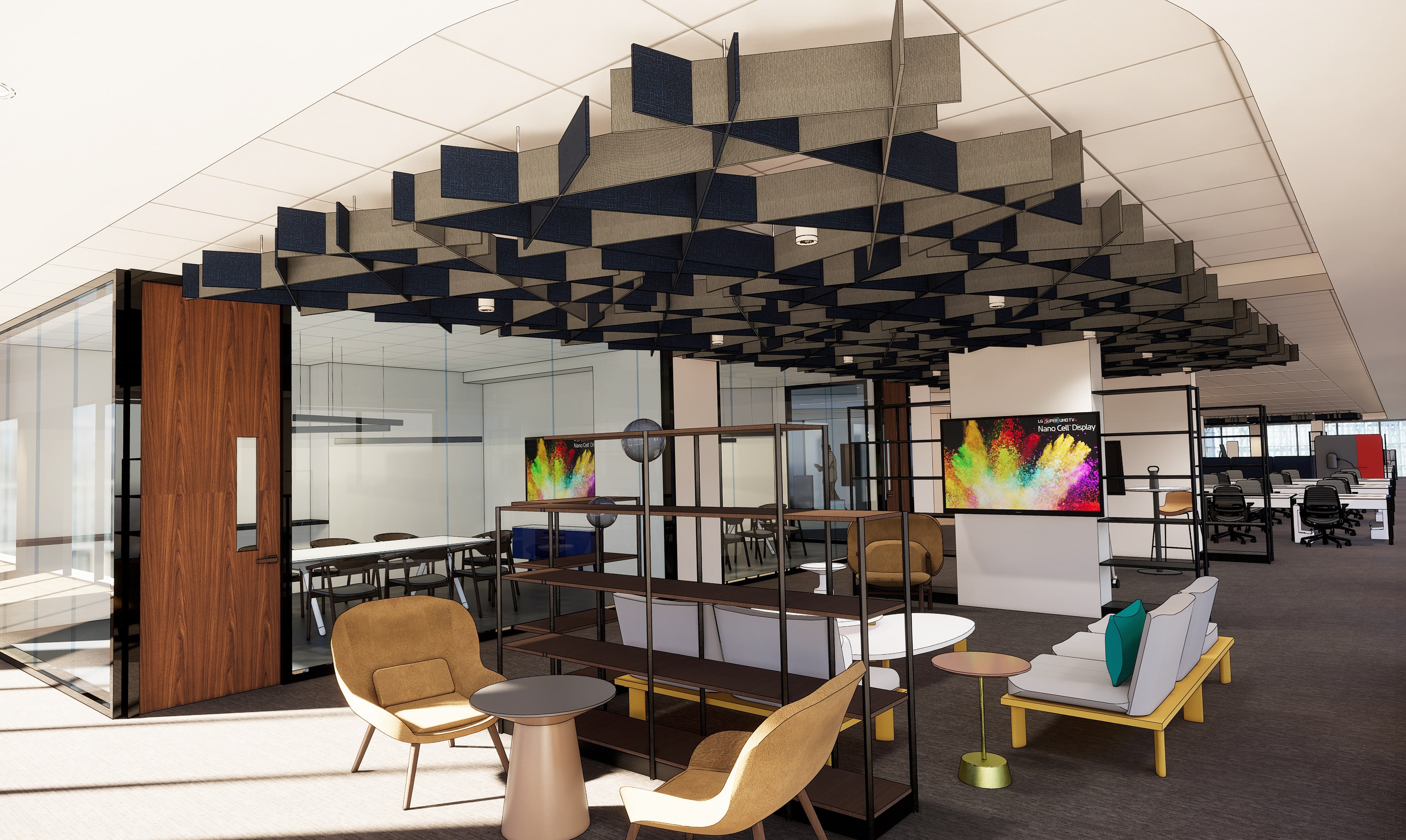 Rep Round Up 
Our workload was heavy this month. We were able to meet with a few reps in the beginning, but towards the end we needed to reschedule several appointments to meet our deadlines! We appreciate everyone that was flexible with us.
Click on the images for links to the manufacturer's website.
Happenings
July 15th – IFB, Shaw, Spec'd, and Designtex treated us to a group update, which they called "Products in the Parking Lot" – but the weather had other plans. Instead, we met inside in our library. It was a great way to see several lines and catch up with everyone. These appointments have been so productive and definitely important, since we've been limited to Zoom appointments, the past year. Thanks ladies!
It was our first time meeting Kristin Over, who reps several lines – Frovi, Emblem, Pair, FACT, Chilewich, and Howe. We recently specified several items from Frovi and Emblem on 2 projects. Now seeing the others in person, we'd like to incorporate FACT and Pair into some projects too.
It was nice to catch up with Maggie from Shaw before her maternity leave. Shaw recently came out with a senior living line, Cultivate Soul that would have been perfect for a job we did customs for through Shaw. Next time next time!
We have a few projects being priced by IFB. We've been working with Tanja. She highlighted Steelcase and new partners they have acquired. Steelcase has so many options now, that you can do, a one stop shop. Plus, she spoiled us with watermelon goodies 🙂
The grand finale was Designtex with Elizabeth. We have worked with Designtex for a long time, always have had a great experience with them. Elizabeth takes good care of us. We kept several samples for upcoming projects. The favorites being Jumper, Bloomer, and Clad Celliant.
July 20th – our office met up for Happy Hour at Macushla Brewing and Co. in Glenview. We all tried different beers – some of the favs were Rouge, Tripel Berry, The Hammer! Very cute patio, right next to Hackneys, definitely worth checking out!
July 28th – we made our way to the Cubs game with Thomas Interiors! They rented out Hornitos Hacienda for the party in the bleachers, which allowed us front row seats to the game. It was hottttt!!!! It was nice to catch up and meet the Thomas team, in person. Beside the heat, it was a fun night – and we saw Rizzo, Bryant, and Baez's play their last game together. Thank you Marina Malone + Thomas Interiors for the invite!!
With the virus still running rapid, we might cut back on scheduling in person appointments to once a week.
Hope everyone stays safe!!
Till then, see you next month!
Katie & Karina, aka Sassy K's